The story of Olaf Glim's raisin farm in Fresno California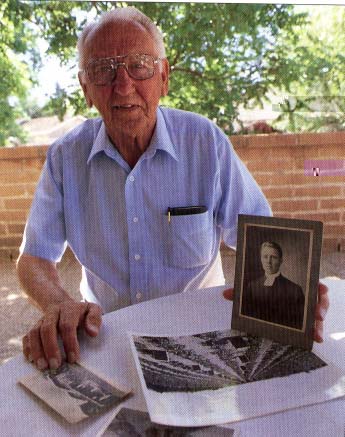 Robert Glim holds a photograph of his father, Olaf Glim.

For more than 85 years the Glim family has owned the same Kerman vineyard and remains one of Sun Maid's longest standing grower members.
By Kip Davis
W
hen a group of San Joaquin Valley raisin growers got together in 1912 to form a new grower-owned cooperative, the effort drew support even from the Midwest, where Olaf Glim thought it was a great idea. Glim, a Lutheran minister, had purchased a 20-acre vineyard in the Kerman area in 1906. Although his ministry duties required him to live far from the San Joaquin Valley, he still was interested in improving the lot of California raisin growers. So when he heard about the new California Associated Raisin Company, soon to become Sun-Maid, he was quick to join. Now, 85 years later, the Glim family still owns the 20-acre Kerman vineyard and has become one of Sun-Maid's longest-standing grower-members.
Robert Glim said his father became interested in California raisin growing in an unlikely place. "He was born in Sweden and moved to the U.S. as a boy," Glim said. "The family settled in Iowa where Olaf worked in farming. He attended the seminary in Upsala College in Illinois, and eventually became a minister." Glim said his father was serving at a Midwest church when he heard about the newly formed Vinland Colony near Kerman, California. "The colony was a bunch of Swedes who settled out on Madera Avenue near Shaw," he said. "They built a church there in 1906. My father evidently had some money saved up so he invested in the vineyard." Olaf arranged for neighbors to take care of the vineyard while he returned to his ministry in the Midwest. He then became a charter member of the new Sun-Maid coop in 1912.
"When he retired from the ministry in 1921 he moved out to the farm." Glim said, noting that the only structure on the property was a water tank house where Olaf and his wife Ingeborg took up residence. "He eventually decided to build a house, but at what was probably the worst time," Glim continued. "Right after he started building in the 1920s raisin prices hit an all-time low. He had to borrow money to finish the house, and then he couldn't afford the payments." Cutting short his retirement, Reverend Glim returned to the ministry to make a living and avoid losing the vineyard. The family settled in the Central Coast town of Templeton and, once again, hired neighbors to take care of the farm. "Things got better and we moved back to Kerman in 1930, just in time for me to start going to Kerman High School," Glim said. "Then the big Depression hit!"
Determined to stay in Kerman, the family did everything it could to make ends meet. "We took in school teachers as boarders," Glim recalled, "my mother gave piano lessons… anything we could do to earn some side income. We were poor, but I didn't know it." The family hung on and weathered the Depression, Glim said, and his father continued to work the vineyard until his death in 1949.
Meanwhile, Glim attended Fresno State College and then UC-Davis, where he earned a teaching credential in vocational agriculture. He was hired by Woodlake High School to start a vocational agriculture department and taught there for the next eight years. In 1948, Glim took a job at Fresno State in the college's newly expanded agriculture program. "This was a few years before Fresno State moved to its new campus, so we developed a farm at the old Hammer Field," he recalled. Glim's career at Fresno State lasted 30 years. As he taught animal science and later ag economics, Glim drew on his experience with the family farm and his association with Sun-Maid, giving him a practical perspective on agriculture and marketing. "You learn a good many lessons by working on a farm," he said. He eventually became assistant dean of Fresno State's School of Agriculture. After his father's death, Glim said, his mother continued to live on the Kerman farm until she passed away. Tended by neighbors, the vineyard continues to produce raisins and Glim remains an active grower-member of Sun-Maid. "My father was always saying that a co-op like Sun-Maid was the best way farmers could get a fair price for their raisins," Glim said, "and I've always agreed with that. During all these years we've always delivered our raisins to Sun-Maid."